Reviews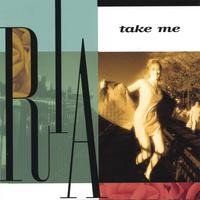 Review: David Malachowski, Daily Freeman, Hudson Valley, NY
Ria Curley's amazing voice powers 'Take Me' . . . 
Saratoga Springs jazz singer Ria Curley has her own take on smooth jazz and R&B, with a retro-pop sensibility. 
And an amazing voice. 
These 10 tracks have a common thread — love. And she takes the theme from start to finish, from looking for love ("I'll Help You Find What You're Looking For"); wanting love ("Ready 4 Luv"); about to have love ("Can't Wait To Get You Alone" and "Take Me"); and romantic love ("Every Day You're Mine is Valentines Day"). 
Curley used a handful of different producers here, and the CD has a lush, full sound. ... Curley [has]... a fantastic range, power and flexibility that just lifts these tunes to higher ground, from the gorgeous "Can I Bring You Flowers," to the soaring "Baby do U Mis-is Me?" But she's at her emotional best without all the bells and whistles, when she turns "Something's Changed" into something memorable and magical with just a piano and her stunning voice.  
Curley has a remarkable instrument, it soars, twirls and spins like a gymnast and she always lands on her feet. Keep an eye out for her (or is that ear?). 
David Malachowski is a guitarist, producer and freelance journalist living in Woodstock.
"

Ria's voice has range, emotion and a sense of drama... if you care about love, you should buy her music... "
— Tom Kuntz, fan (NY Times Editor)
"

Fecteau's 'Seasons,' featuring the creamy musical duo Ria Curley (vocals) and Chuck Lamb (keyboard)... [allowed audiences] to "follow the four seasons, from spring to winter, while enjoying the colorful, original music of the live duet. "
— Wendy Liberatore, The Daily Gazette (3/7/2016)
"

Her lyrics speak directly to the listener, inviting them on a journey filled with love, laughter and spirit. This album is a joy from beginning to end."
— Kevin Goins, HMV Record Stores, Music Buyer
"

Ria "caresses the microphone..." with her "curvaceous coloratura..." "
— Russ Tarby (Syracuse New Times, Music Writer)
"

[S]he dabbles in seductive, rappy lyrics and toys with our modern hip-hop stereotypes... we want more... "
— Sandi Hemmerlein, The Colgate Scene, Music Reviewer
"

A sultry new voice... great catchy songs... you won't be able to get them out of your head. "
— Margerie Goldberg, former New York Magazine, Photography Director
ARTICLE IN "SARATOGA TODAY" RE NACRE DANCE CONCERT WITH MUSIC BY RIA CURLEY & CHUCK LAMB
Nacre in Concert:  A Collaboration of Creativity'    
On Saturday, March 5, Nacre Dance Company is opening their 2015-2016 season with the premiere performance of "Nacre in Concert." This show will combine several artistic mediums, including live music, dance, and poetry, and will contain brand new dances from featured choreographers, as well as a new piece by Nacre Artistic Director, Beth Fecteau, in collaboration with musicians Ria Curley and Chuck Lamb.     
Beth Fectau's piece, "Seasons," was inspired by various props, all related to a specific season. Fecteau first discovered KnockerBalls, which resemble clear hamster balls that the dancers wear and perform in, and realized they looked like snow globes. This sparked the idea to create a modern dance piece that incorporated these seasonal props, and would take audiences on a journey through the seasons. Fecteau then reached out to celebrated R&B/pop singer and songwriter Ria Curley and jazz pianist and composer Chuck Lamb to create original music for "Seasons."  "I really want audiences to feel a connection between the dancers, and also with our collaboration," said Fecteau. "I also want them to see [Curley and Lamb's] music through our bodies, and how we're taking our bodies and interpreting their music."   
What makes "Seasons" so unique is that Curley and Lamb will be performing their music live as the dancers perform to it. According to Fecteau, the live music component is new for some of the dancers. "Live music is very different than dancing to taped music, so for them, it's a learning experience."  "A really neat part of this for me is to be able to see the music realized in form," said Lamb, who specializes in the ability to improvise musically. "It becomes a visual medium, and that relationship is beautiful. This is the most choreographed work I've done the music for, and to have that music transform into this visual piece, is amazing."   
Fecteau gave Curley and Lamb a lot of creative freedom with "Seasons," and according to Curley, the music and choreography came together quite seamlessly, with very few edits along the way.  "In terms of the original composing, [Beth] would give us a feel for each season, like autumn for example, and would give us various adjectives to describe it, such as 'swirling' or 'falling,' and we would have that to start with. All of a sudden, it would come together musically based off that," noted Curley. "I have a dance background, not modern dance, but I did jazz, tap, and some ballet. I studied it for many years, so it's fun for me also from that perspective, and it helps with composing music that can be danced to."  Lamb also agreed that the collaboration with Fecteau came together with ease.  "It was so natural. There was a flow between us; we were always on the same page. We both wanted to make sure the other was happy, and we played off each other's ideas a lot. It was just a blast."   
"Seasons," which begins with spring and ends with winter, takes audiences through each season of the year, with each season having its own mood and theme. Spring and summer are presented as romantic and flirtatious, with the music upbeat, while autumn and winter are more serious and pensive. Each season incorporates Fecteau's inspirational props, including diving caps in summer, the snow globe KnockerBalls in winter, and vivid ponchos for spring that resemble dewy flowers.   
Julia Kool, who is dancing in "Seasons," has been a student of Fecteau's since she was nine, and is very excited to be a part of this piece.  "If you have good direction, you have a good experience, and I always have a good experience, so I must have good direction. Beth's choreography is also really fun to do. They're easy on your body and they look really nice." Kool adds with a smile, "She makes me look good."   
While Fecteau's piece will be the grand finale of "Nacre in Concert," the show commences with a poetry reading from local poet Marilyn McCabe, who will introduce each piece in the show. Following the reading will be outstanding dance performances and choreography from the participants of Nacre's "So You Think You Can Choreograph" competition. The winner of the competition, Kailey McCrudden, along with finalists Brett Cox and Christian Serrano, will each be presenting unique choreographed pieces of their own. 
The theme for "Nacre in Concert" is "atmosphere," which is pertains to each piece being performed, including "Seasons."  For example, Brett Cox has created a dance performance titled, "Fellow Travelers," which will incorporates the theme of "atmosphere" through the exploration of the universe and space, using inspiration from the late astronomer, Karl Sagan.   "After my experience with Nacre during the 'So You Think You Can Choreograph' competition, I have continued to create dance material and keep in touch with the phenomenal members of Nacre in the hopes of a future collaboration with this outstanding group," said Cox. "I was thrilled to have the opportunity to work with the staff of Nacre Dance again and return to New York for this wonderful showcase."   
With a variety of artistic mediums and performers to enjoy and discover, "Nacre in Concert" is guaranteed to be a night to remember for anyone who attends.  "We hope it's a gift," said Curley. "People can take an hour of their day and just sit there and feel something, whether it's joy or curiosity or sadness. I think in all of the arts, the goal is to have people feel something, whatever they're going to feel, but to have the time and space to feel it."